Overview
McMurdo and South Pole have APO (Army Post Office) facilities, and participants are eligible to use them for receiving and shipping personal (non-commercial) goods while in Antarctica.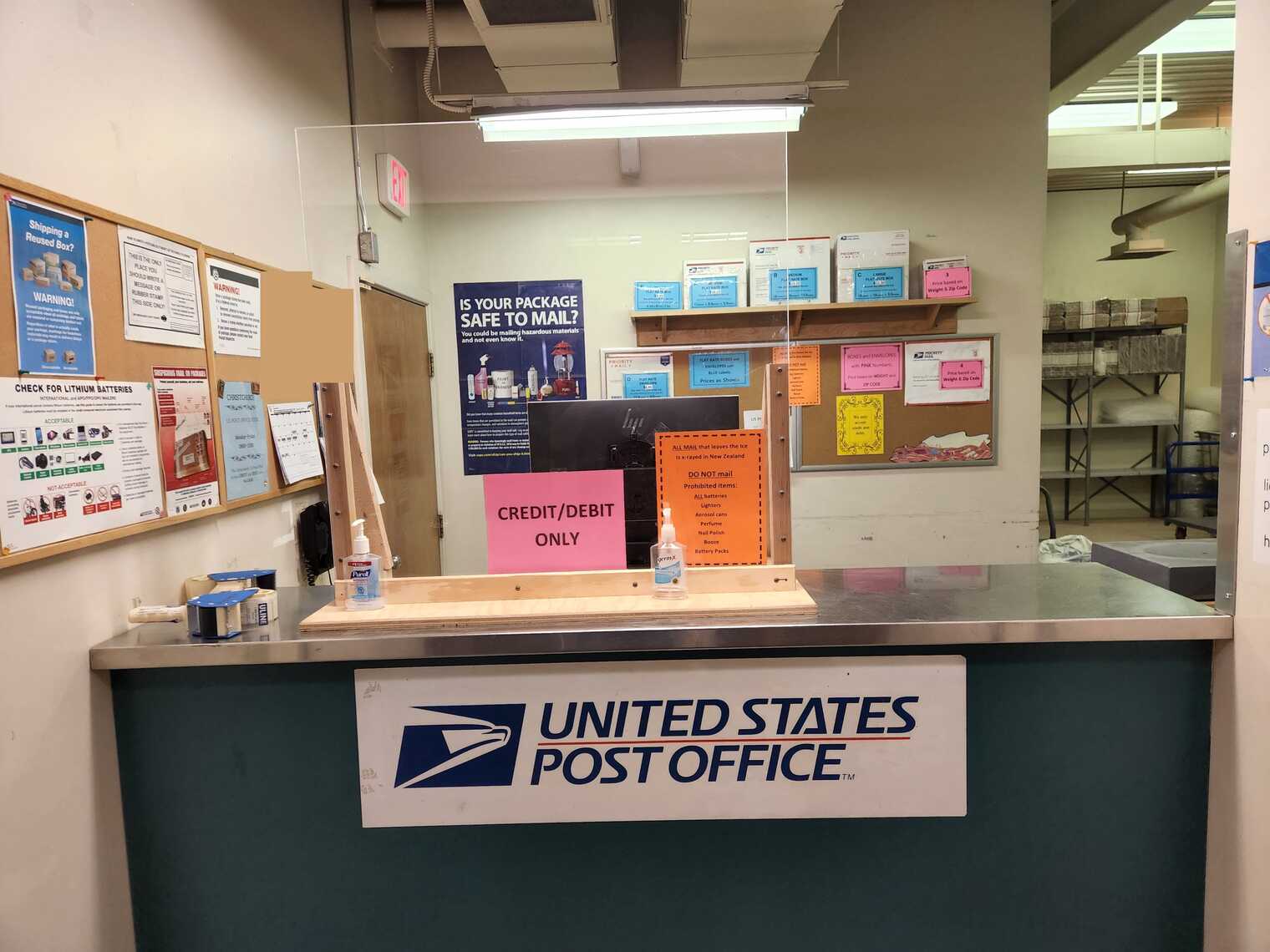 The US Post Office counter at McMurdo.
The mailing addresses can be found in the USAP participant guide.
These stations are part of the "AP" (Armed Forces Pacific) military mail network.
Mail Pricing
As an APO destination, mailing rates are generally the same as domestic rates, except Priority Mail Large Flat Rate boxes, which are actually cheaper. Yes, it costs me less to ship a 12lb box to Antarctica than to my neighbor across town. As of August 2022, it's $17.70 for APO, vs $19.20 for domestic, at the Commercial Base Rate. Flat mail (letters, postcards, padded envelopes, etc) are the same as domestic rates.
APO mail is subsidized. Packages should cost way more given the delivery network complexity involved.
Note that USPS has a special "Military Mail" Large Flat Rate Box you can order, and some post offices might have it. There's nothing special about this box; it's just a regular Large Flat Rate box with some military morale writing on it. You can use regular Large Flat Rate boxes.
General Guidelines
USAP instructions provide some tips to use the mail service effectively. The canonical up-to-date guidance can be found in the USAP participant guide. I won't repeat anything here that might get stale in the future, except some generalities:
Flat mail items (letters, postcards, flat bubble envelopes) are delivered faster. These items take priority over packages and are manifested and loaded onto most intercontinental flights.
Mailing items for resale is a violation of APO rules. You can't ship yourself stuff to resell on station.
There are restrictions on what can be mailed based on the Antarctic Treaty, USPS Policies, USAP Policies, and New Zealand policies. Unique things banned from mailing to Antarctica include live plants, viable microorganisms (probiotics, kombucha), packing peanuts, and microbead cosmetics. This is not an exhaustive list.
Delivery is at the mercy of flight schedule and availability. Logistics and science cargo takes priority. A package destined for Antarctica may be delayed for ~months depending on the time of year and logistical needs.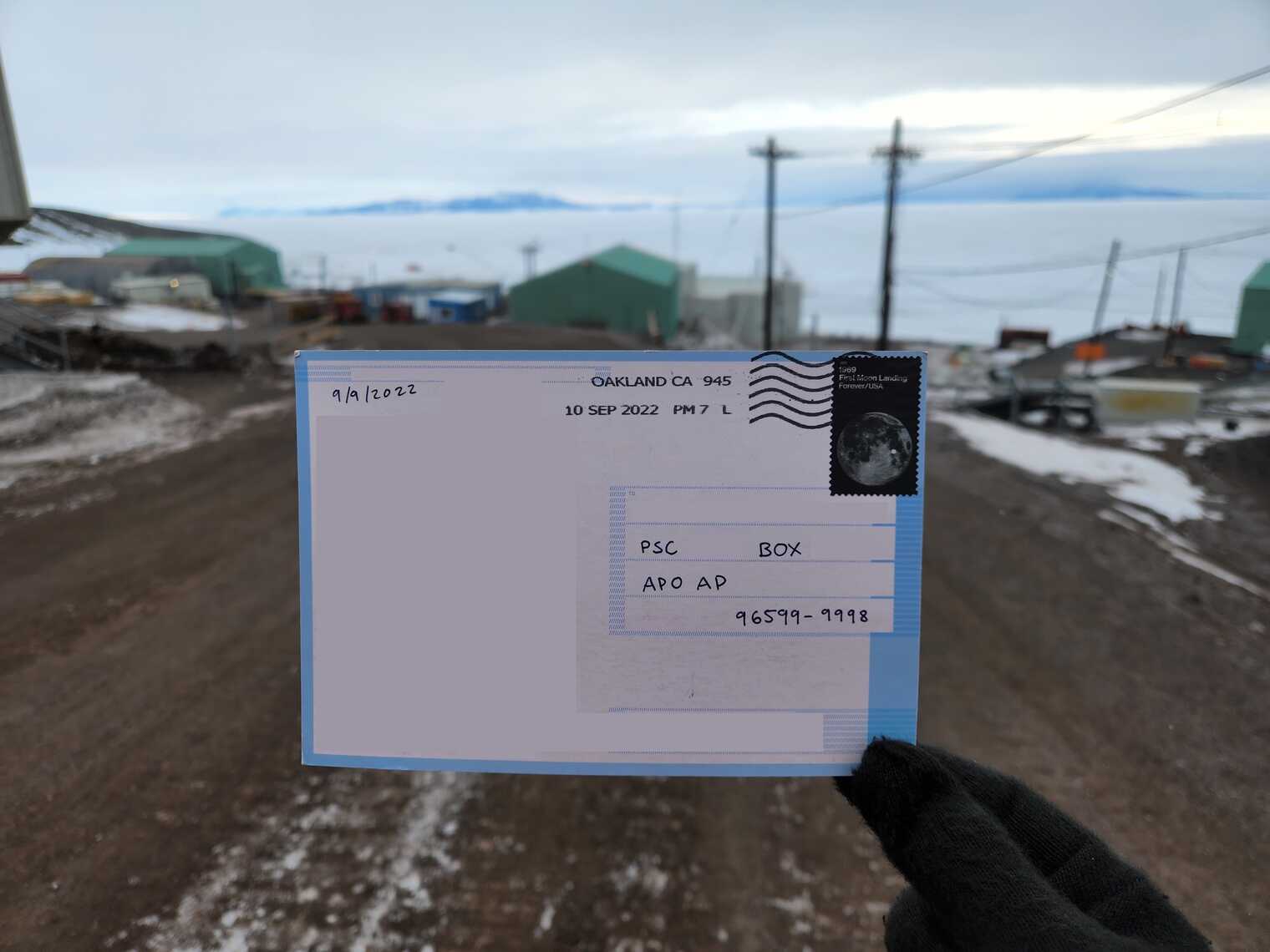 A postcard! In Antarctica! How fun!
Mailing a Parcel to Antarctica
In order to stay under the USAP checked baggage weight limit (currently 85 lbs for summer participants), I chose to mail some items to Antarctica instead of carrying them with me.
My first box was mostly toiletries and other personal care items. Since I'm there for 6 months, I hand-carried some of the items I want, and I shipped the rest. Since my package made it to Antarctica on one of the summer (Mainbody) flights, I was there for a few months prior to it arriving.
I saved about 12 lbs of luggage capacity by shipping items for the latter half of my deployment.
There is a station store, but I wasn't counting on it having any specific item. A little bit of comfort in an unfamiliar place is nice, even something as simple as a preferred brand of soap or moisturizer.
Mailing to an APO is a bit more complex than to a domestic address, so I'm sharing what I learned along the way so others may benefit.
Packing
A package going to an APO destination will likely experience rougher handling and more temperature variation than a domestic package. For that reason, it's prudent to spend a bit more time packing the contents securely, and to pay attention to USPS guidelines.
A few USPS mailability gotchas (again, NOT an exhaustive list, the USPS Domestic Mail Manual (DMM) is around 1,300 pages):
No prescription drugs except those mailed directly from an authorized provider (pharmacist, doctor, etc).
If you're mailing liquids, they have to be triple-packed. For example, I mailed liquid soap to myself, so I had to place it in a watertight ziploc bag, then place that ziploc bag in another watertight ziploc bag, then place padding around that. The final outer Priority Mail box counted as the third layer.
No batteries. This means no new or used electronics that contain batteries, of any sort.
Addressing
The APO system discourages extraneous information in the address field, because it can interfere with mail routing and possibly result in an item being sent through normal international channels instead of the military mail network.
The "city" for US Antarctic stations is "APO" (stands for Army Post Office) and the state is "AP" (stands for Armed Forces Pacific).
Refer to the USAP participant guide for the most up-to-date mailing addresses and guidelines.
Customs
The biggest difference in sending mail to an APO vs. a domestic address is the requirement to submit a customs form.
There are no taxes or fees imposed on personal mail to Antarctica. You just need to declare the contents, and the package may be officially opened and searched.
For packages less than 16oz, you need form 2976. For packages larger than 16oz, you need for 2976-A.
For mail that contains documents / correspondence only, you do not need a customs form. For example: letters, postcards, etc. If there's anything other than correspondence, you need a customs form. This includes trivially-small things like stickers, etc.
The USPS doesn't accept handwritten customs forms. Your options are:
Go to the post office and have an employee fill it out there.
Use an electronic shipping solution like USPS Click-N-Ship. This will allow you to electronically fill out the customs form, as well as purchase the postage and print the required labels ahead of time.
USPS technically requires that the customs forms are placed in a special pouch. In practice, this requirement is not enforced. The majority of packages I've seen, both to and from Antarctica, have the customs forms taped or stuck directly onto the package. Mail at your own risk / your experience may vary.
The pouches are USPS item number 2976-E (large) or 2976-ES (small). You can get these at your local post office, or order them ahead of time for free from USPS if you're going to be doing a lot of mailing.
In my case, after doing the customs declaration online as part of the purchasing flow, I ended up with two forms:
The main form 2976-A, which included postage, To/From address, and tracking number.
A "Continuation Page" because the number of unique declared items in the package didn't fit on the 2976-A.
Both of these were half-sheet forms, and they fit into a 2976-ES (small) customs pouch.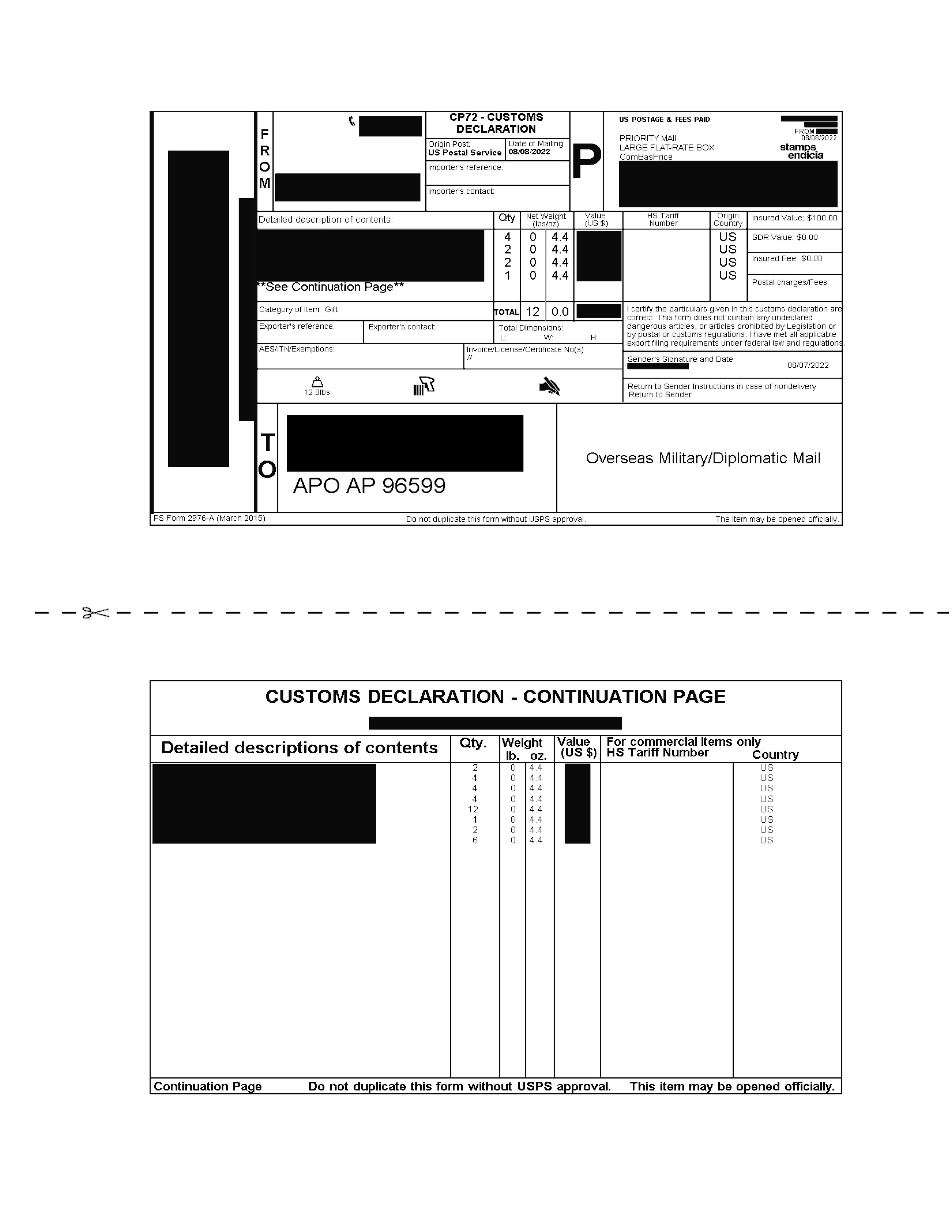 Shipping label, including customs form.
Actually Mailing the Package
Packages destined for APO addresses can't be placed in a drop box, even if they fit. They must be handed over the counter to an employee. Even though I prepaid and did the customs form online, USPS requires standing in line to allow an employee to double-check your work.
Letters and other correspondence (without a customs form) can be placed in a drop box or other outgoing mail receptacle.
Other than that, it's a standard Priority Mail shipment, with a standard tracking number. My receipt shows the APO AP destination.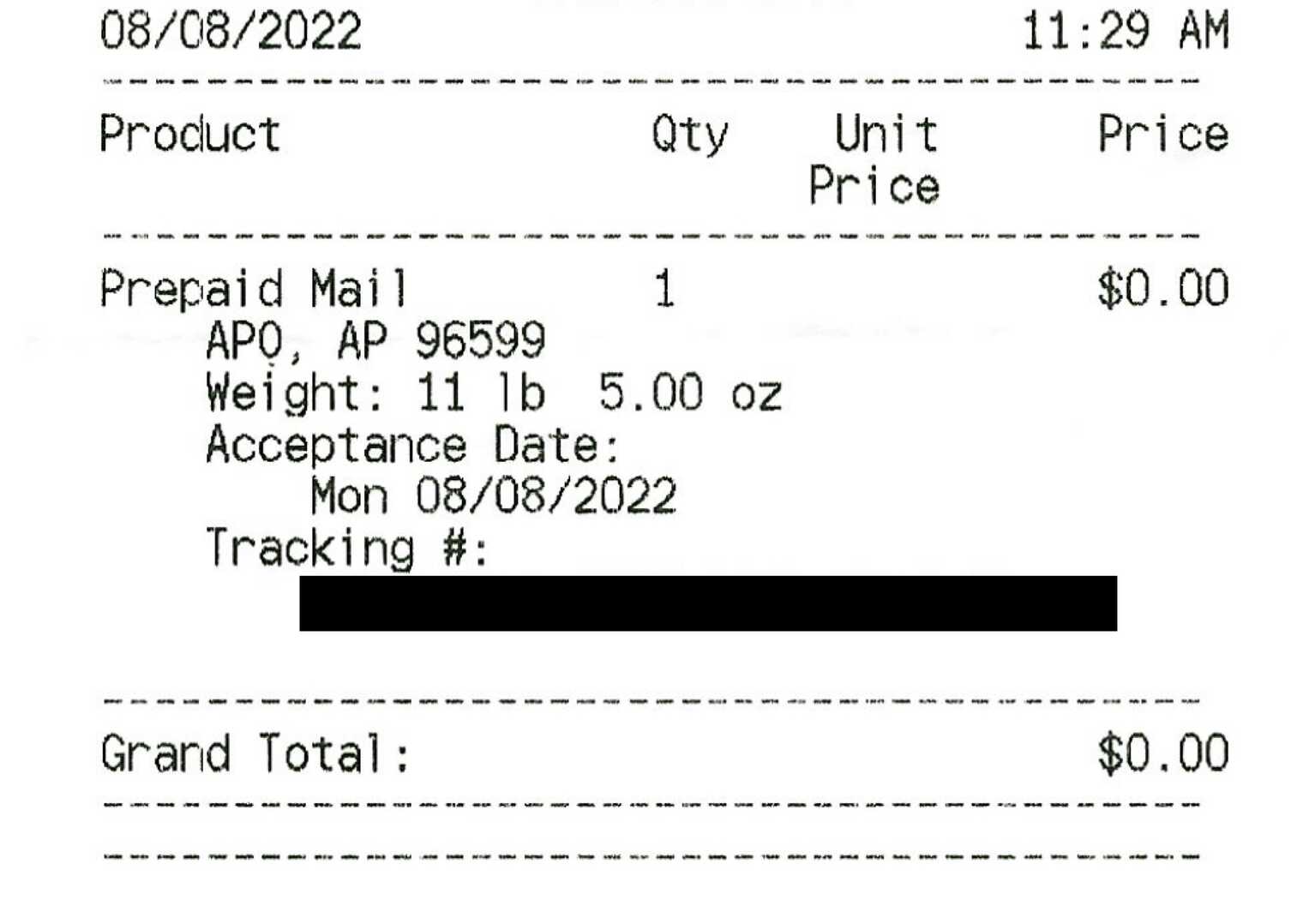 Dropoff receipt at a San Francisco post office.
Package Tracking
The package will route through the normal domestic mail system to reach the AP (Armed Forces Pacific) ISC (International Service Center). This is currently Los Angeles or Chicago, following the recent (August 2022) closure of the San Francisco ISC.
Once the mail makes it to the ISC, it's transferred to the military postal system, and tracking information beyond that is sparse.
When the package makes it to Christchurch, it'll be held until there is space on a southbound flight. You probably won't see any tracking updates at this stage, and that's OK.
For items I've received on station, the package tracking only updated once the packages actually made it to McMurdo and were available for me to pick up.
The final "delivery" scan corresponded to when I actually picked it up from the post office.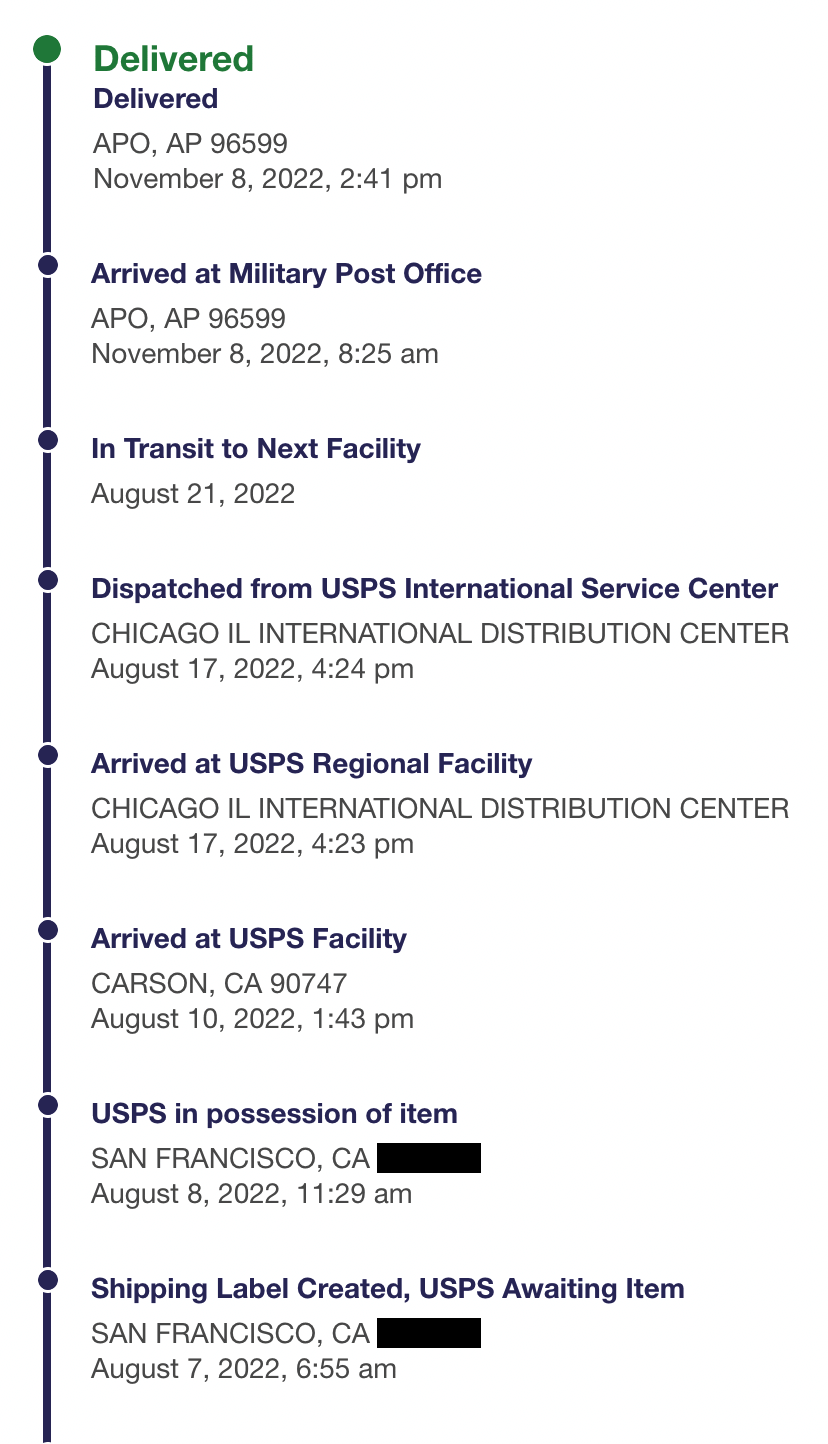 Package tracking for a parcel sent to McMurdo. 3 months door-to-door, right on schedule!
Collecting Mail in McMurdo
Once mail arrives in McMurdo and makes it to the McMurdo post office, I'm able to pick it up from the counter in Building 140.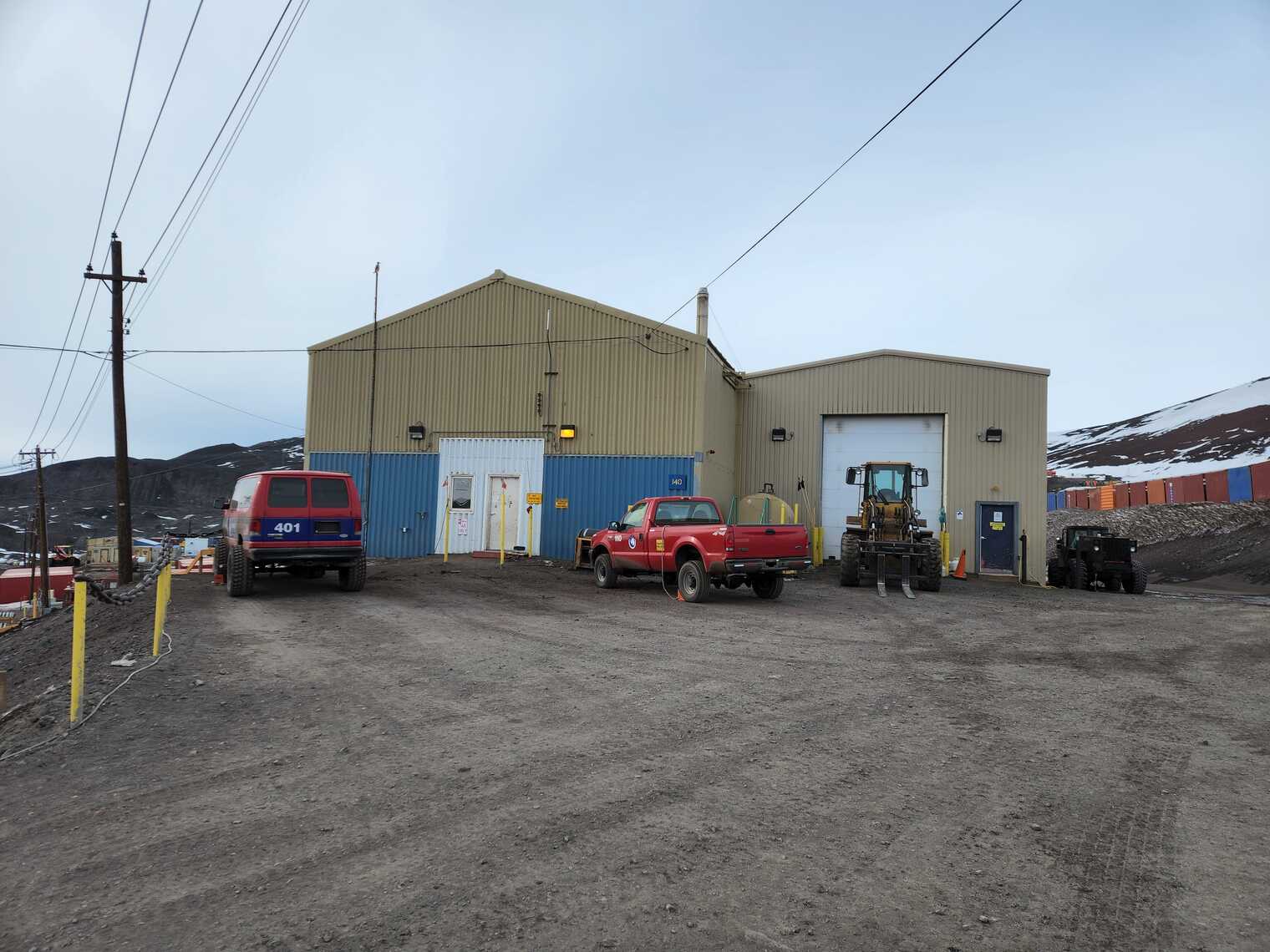 Building 140, home to the McMurdo post office.
As I've mentioned above, letters and flat mail arrive regularly, on most flights. Package mail may take months. There's a dashboard on the McMurdo intranet that shows when we have packages waiting for us.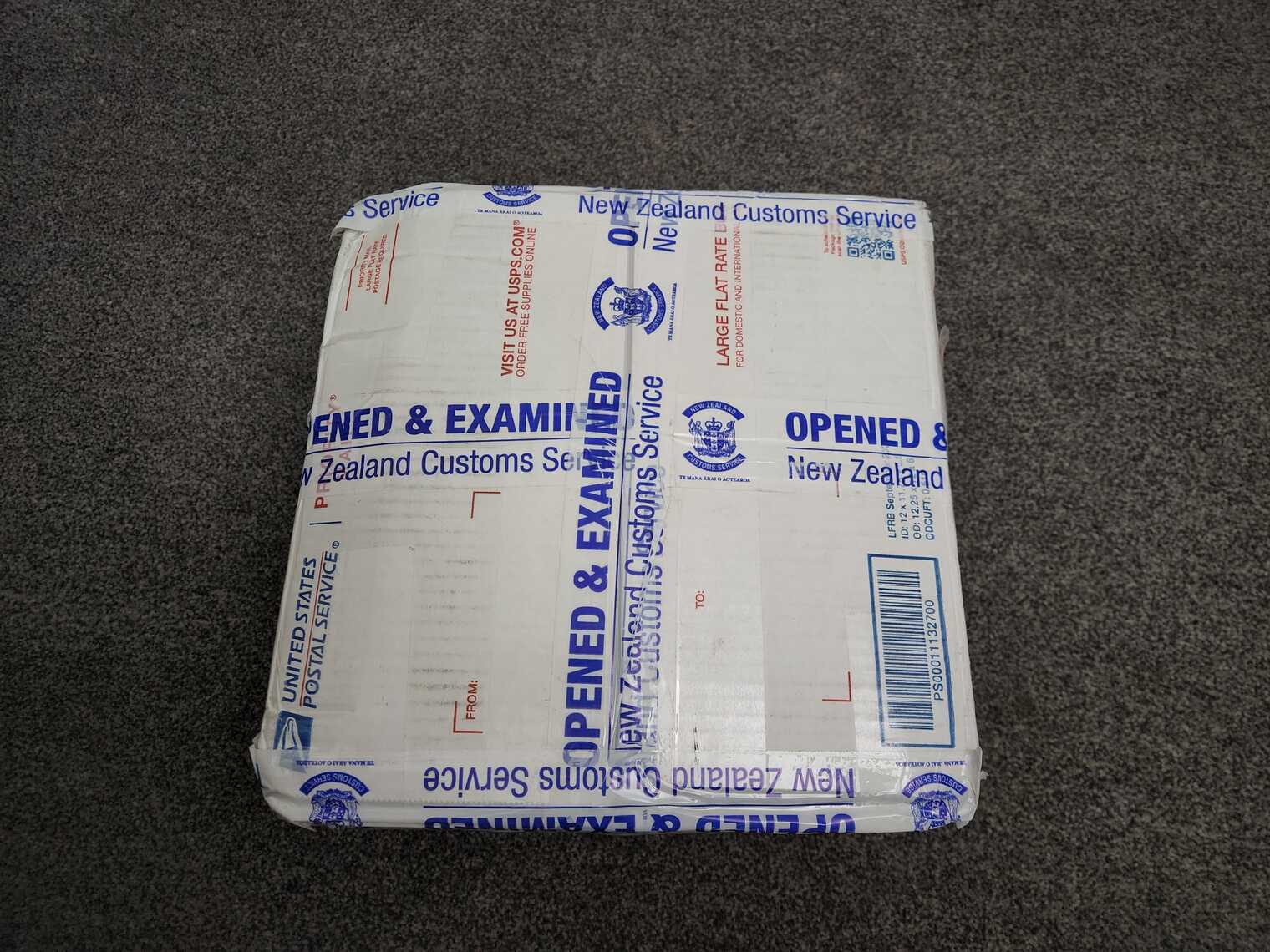 A package! Arrived safely after a three-month journey.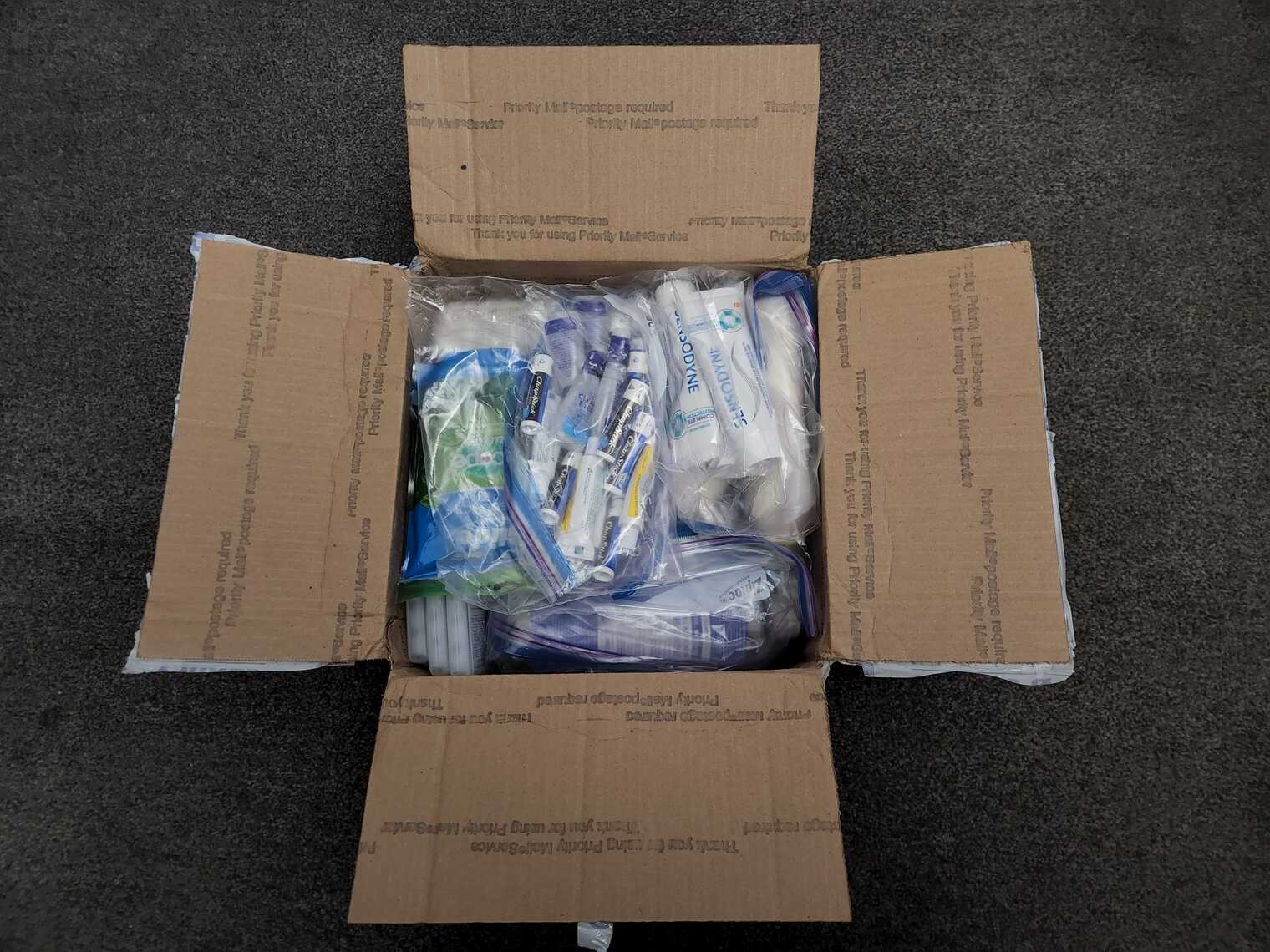 Toothpaste! Chapstick! Lotion! Soap! How fun!
Mailing Stuff From McMurdo
Mailing stuff from McMurdo is pretty much the same as mailing it from home! It's normal domestic / APO postal rates, and customs forms are required for packages.
You can buy postage stamps right at the counter, just like back home:
We have a drop box! Letters and postcards can go here, and larger items need to be mailed at the counter (just like back home).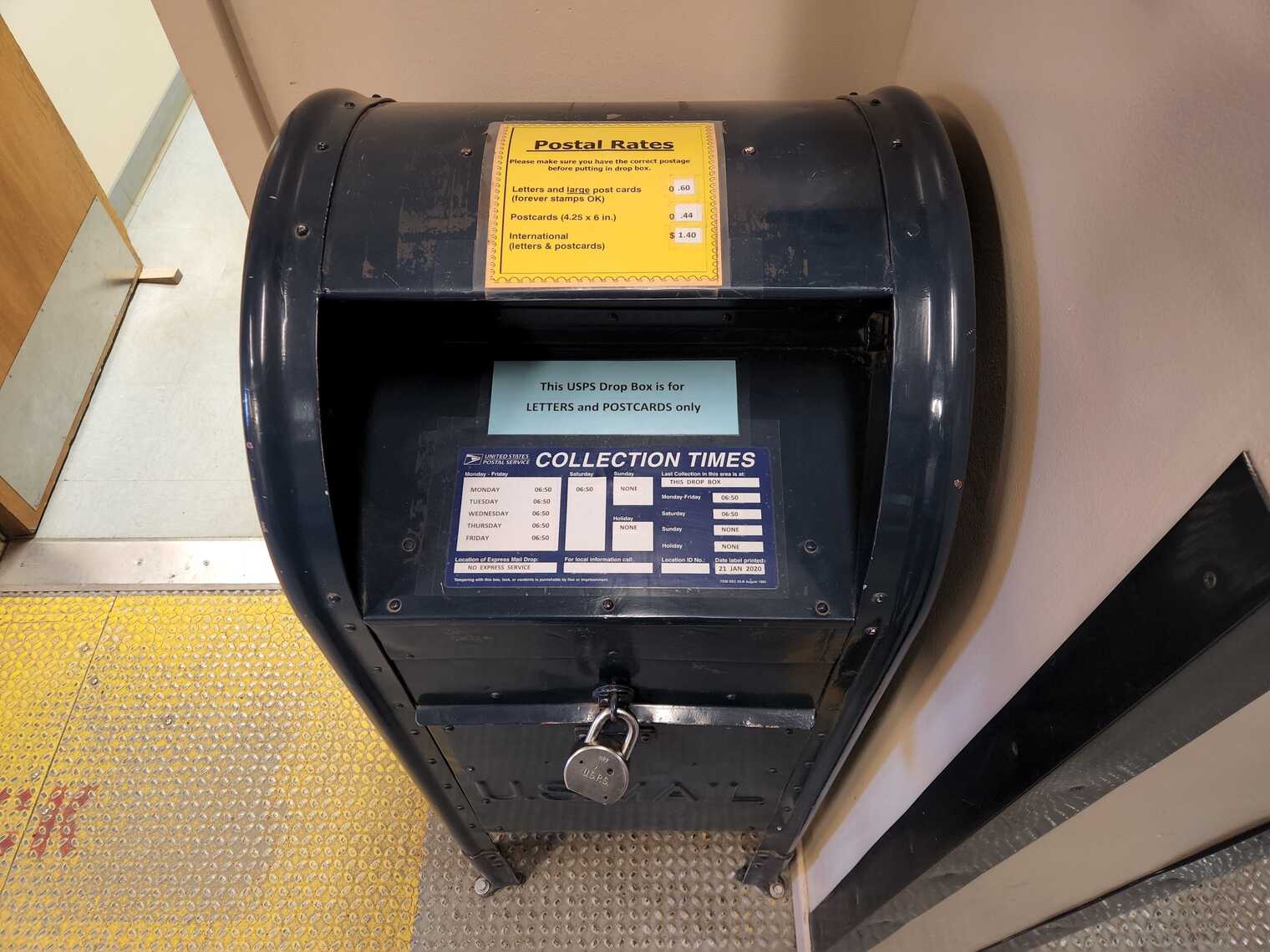 USPS drop box in Building 140.
You'll get the McMurdo postmark on your outgoing letters and postcards!
I mailed some postcards on October 4, and they arrived to their recipients in the US at the end of October / early November. Just like mailing things to Antarctica, letter mail goes much faster than parcel mail when mailing things from Antarctica.
Conclusion
I hope others found this helpful! Mail is delightful, and it's especially delightful in an unfamiliar place.
A well-timed postcard can really brighten an otherwise-drab week.
I'm glad that this institution is still around, and I hope people will continue getting care packages for years to come.
Until next time!