I made it!
We were delayed one more day, but we landed here in McMurdo last night (Sunday, August 28).
I'm still getting my bearings here, so I don't have much to write about yet. Here's a bit about the journey itself!
We flew down to McMurdo on a C-17 operated by the US Air Force. The flight itself was just over 5 hours.
Ours was configured to carry both cargo and passengers. We sat around the outside, and there were pallets of equipment and supplies on the inside. This meant plenty of legroom – way nicer than a commercial airline.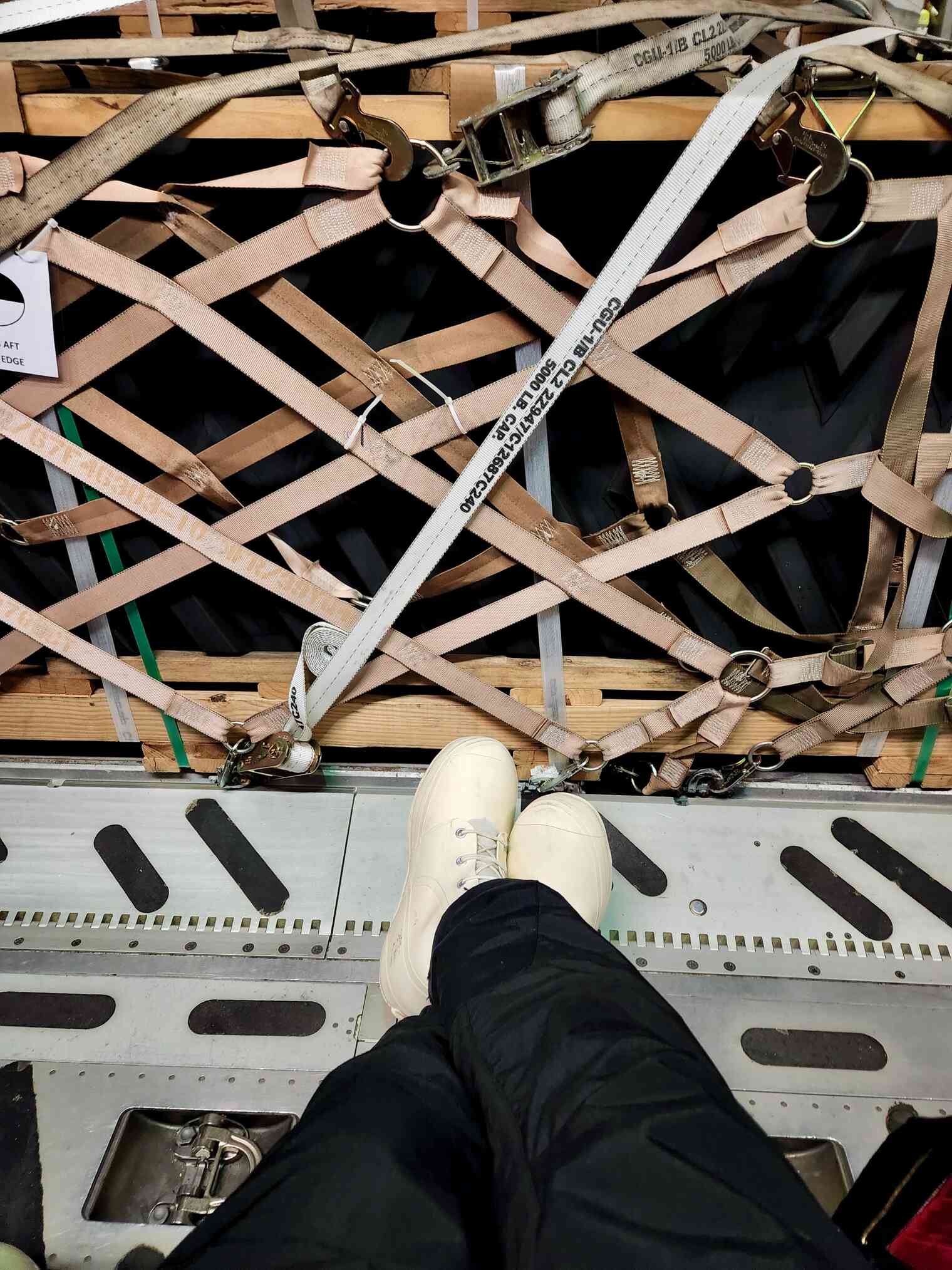 C-17 Legroom, with my stylish Bunny Boots issued as part of my ECW.
We got bag lunches for the flight. Sandwiches, protein bars, fruit, and other snacks, to graze on during the flight.
The seats themselves were pretty comfy, and most people made them even softer by sitting on their issued Extreme Cold Weather (ECW) gear.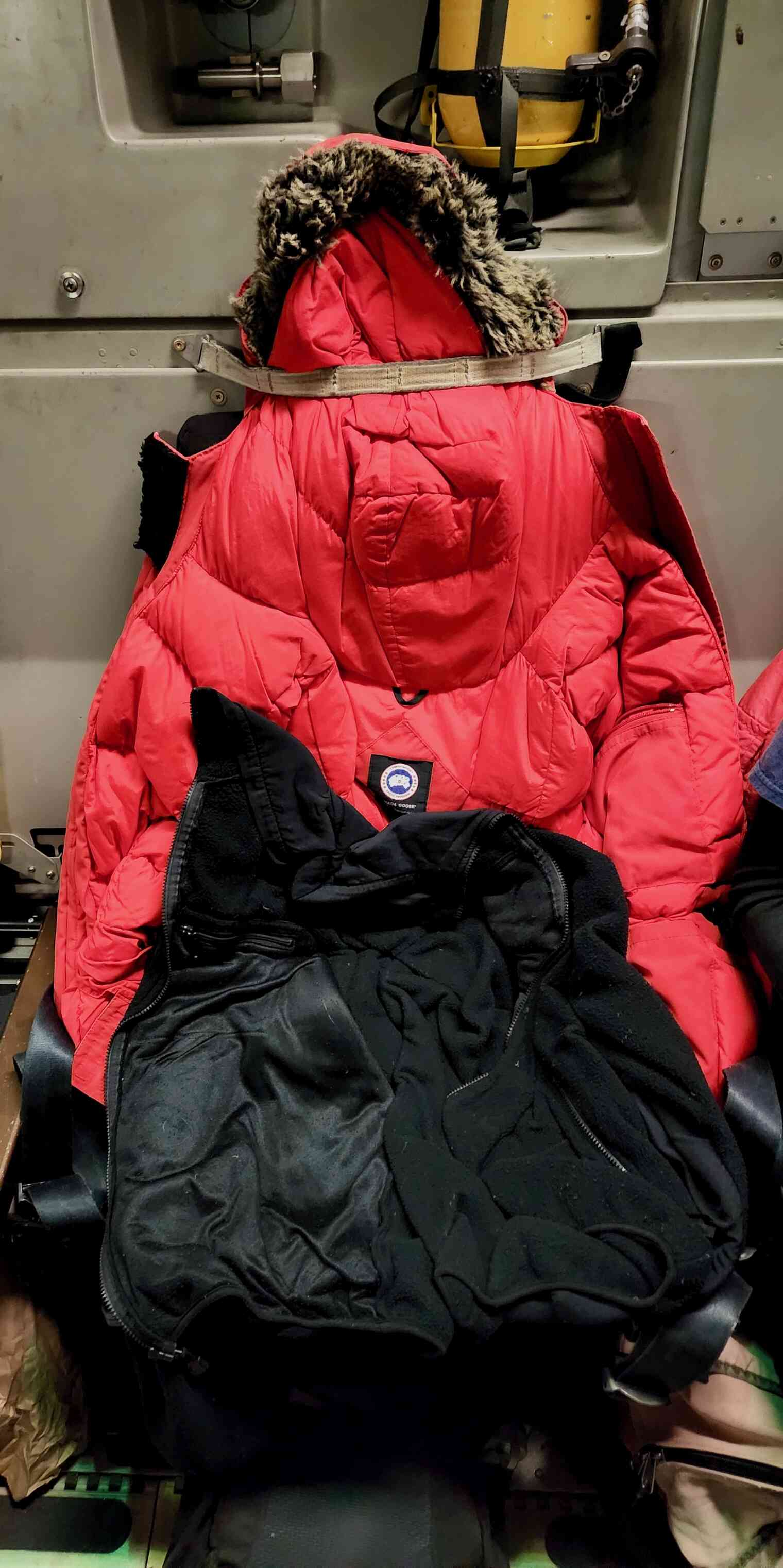 C-17 seat, extra padding with extreme cold weather gear.
The C-17 doesn't have a lot of windows, but there's a tiny one that we all took turns looking out of. Here we can see some beautiful clouds somewhere over the ocean between New Zealand and Antarctica.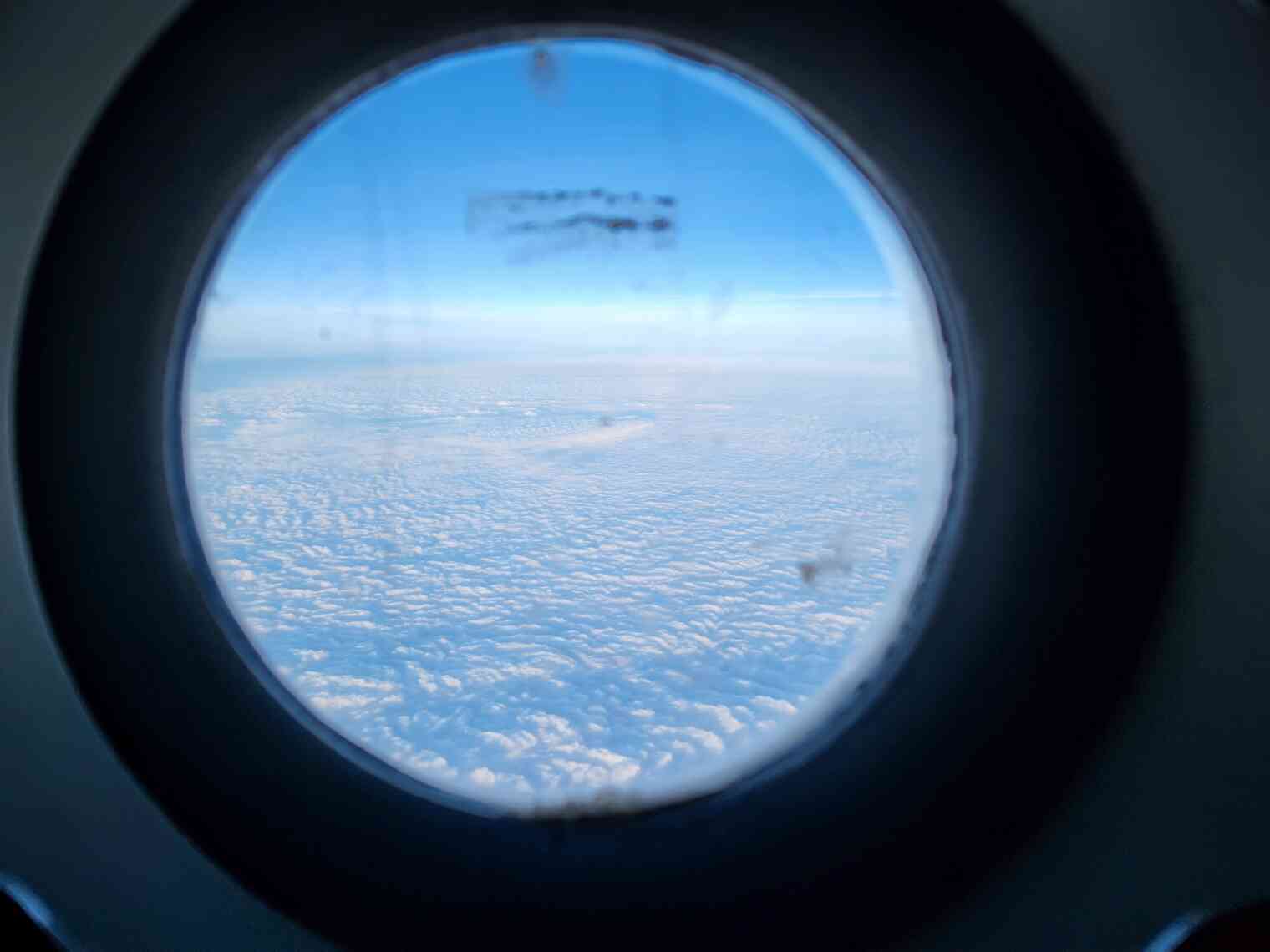 Clouds out one of the tiny shared windows on the C-17.
Landing was uneventful. It was a brisk -26°F when we landed, and we were quickly shuffled onto the waiting shuttle. The most uncomfortable part of the process was the final ~45 minutes of flying, after we had to put on our ECW gear while still on the heated plane.
Our shuttle was Ivan the Terrabus. There's plenty of photos around, and it was night when we landed so I couldn't have gotten a good photo even if I wanted. Also did I mention it was -26°F? Hands stayed in gloves.
I did snap a photo of the plane from the bus window before we pulled away!
The bus ride was ~45 minutes, and we stopped by Scott Base first to drop off an Antarctica New Zealand participant.
Since we arrived so late, we had a quick orientation and then everyone went straight to bed. After all, Monday was a work day, and work days normally begin at 7:30am. Most work centers are accommodating of this type of arrival, and I was able to sleep in a bit.
I'm definitely still getting oriented here, so I don't have a whole lot to write about the town yet, but I'll end this post with a few lovely photos I snapped this evening: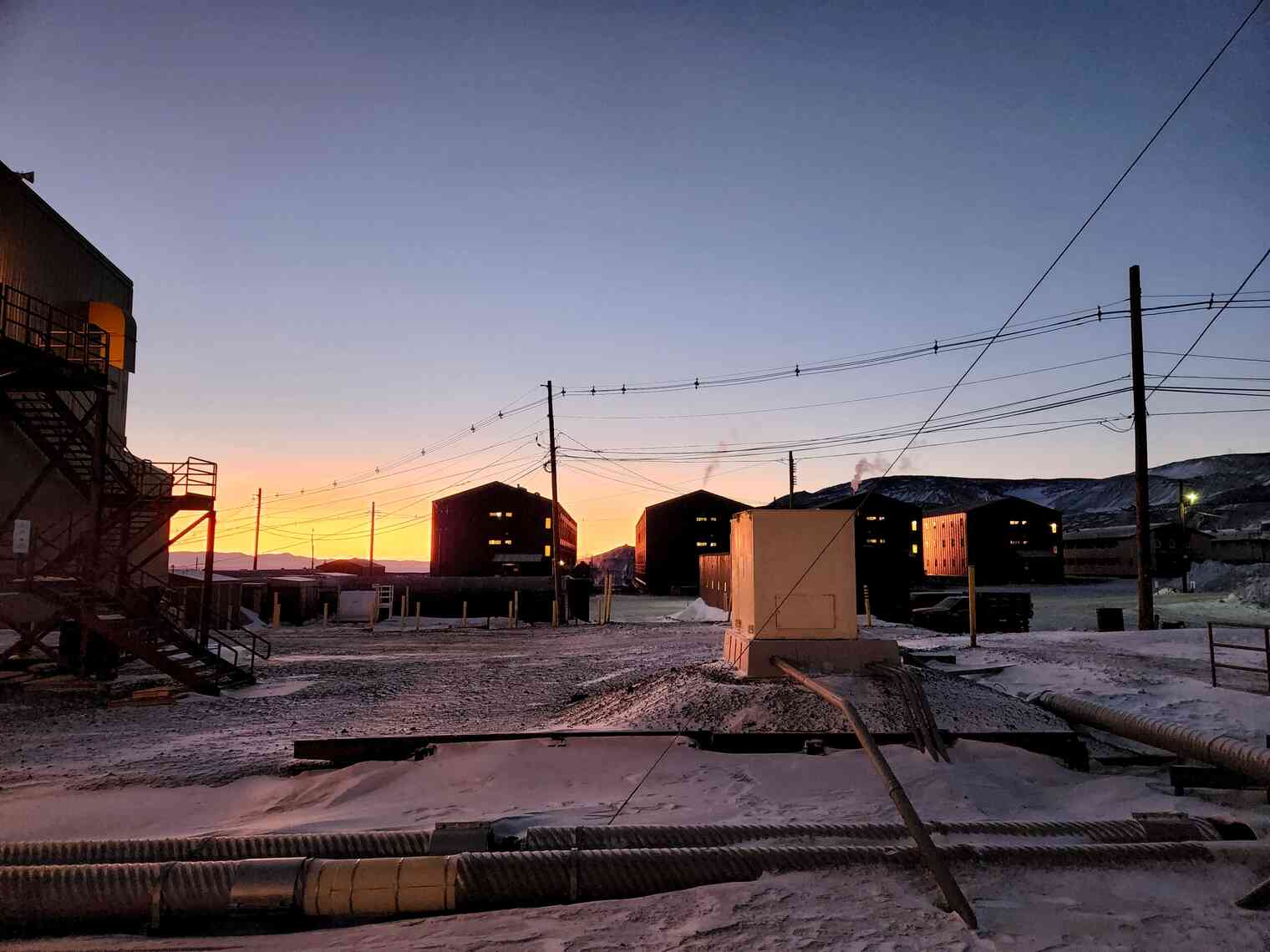 A beautiful sunset from downtown McMurdo.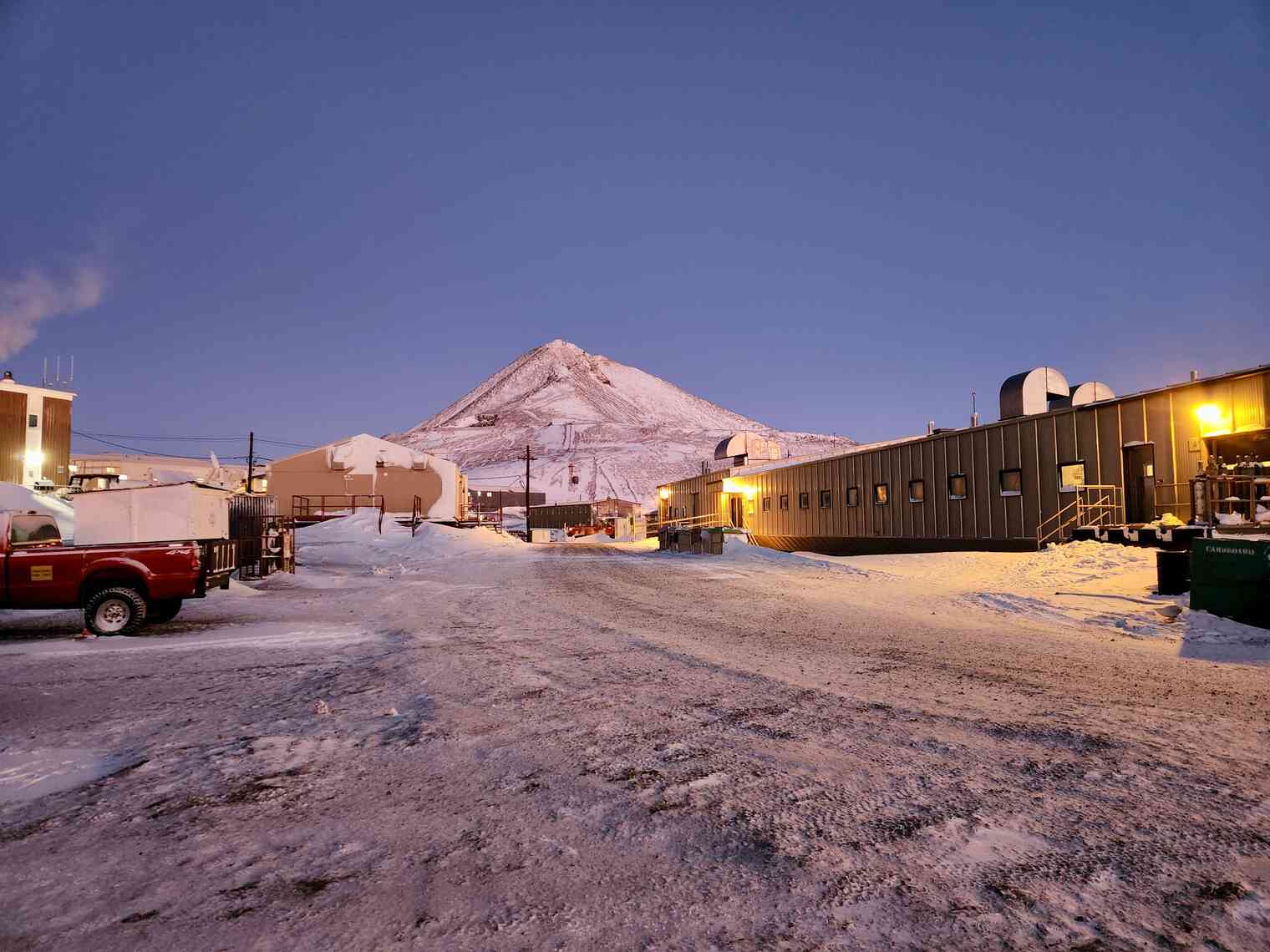 A look at Observation (Ob) Hill from Downtown McMurdo.
Until next time!